【banca widiba recensioni】New York Times union members stage major newsroom disruption to protest expired contract
Facebook
Twitter
Flipboard
Print
Email
close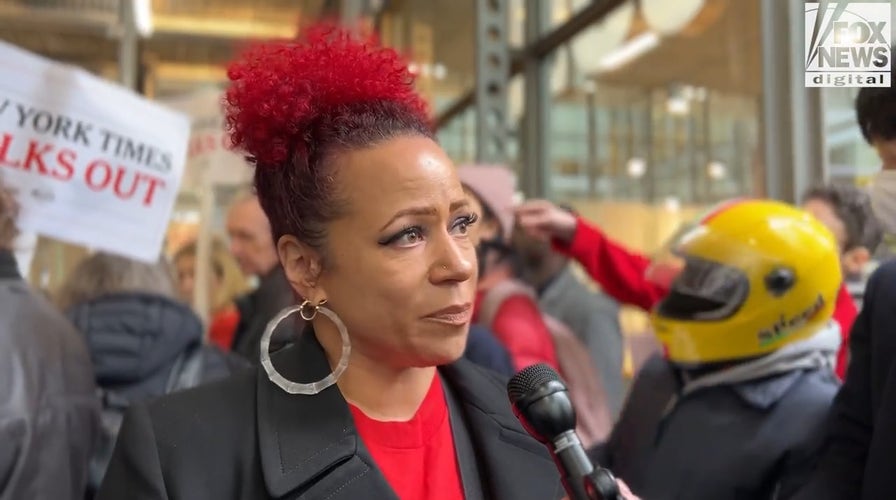 Video
New York Times guild leaders list demands, speak out during walkout rally
NewsGuild leaders and New York Times employees suggested further action if the paper does not negotiate in good faith.
There was a major disruption in The New York Times newsroom on Wednesday as unionized staffers protested the two-year anniversary of their contract having lapsed.
Times writer Liam Stack shared video on social media of a significant crowd of staffers loudly booing and blowing noisemakers in the newsroom.
"What is that?" the union leader asked, apparently in the middle of a call and response.
"Too long," the crowd responded.
"What do we want?" the leader asked.
"Contract!" the crowd answered.
"When do we want it?" the leader followed.
"Now!" the staffers shouted.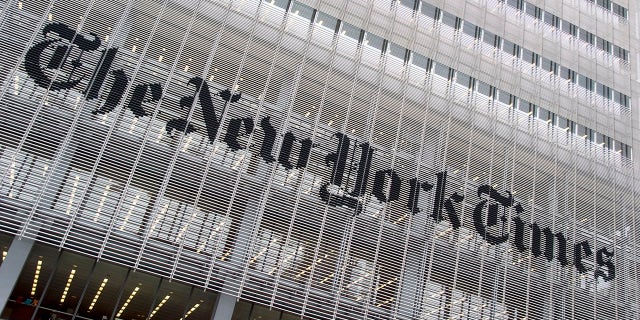 The New York Times was shaken up Wednesday by a rowdy protest inside its newsroom over expired contracts of unionized staffers. (iStock)
NEW YORK TIMES STRIKE: UNION LEADERS BLAST LEADERSHIP, CLAIM RACIAL DISCRIMINATION AMID DEMAND FOR RAISES
Stack provided context of the contention within the Times, tweeting, "The [contract] expired 2 years ago today. Staff haven't gotten a raise in 3 years, while top executives have given themselves multimillion dollar raises."
The union leader thanked those who attended the protests then turned around to his other colleagues and told them, "To those we interrupted, we're sorta not sorry."
NEW YORK TIMES STAFFERS SPEAK OUT AGAINST MANAGEMENT AMID STRIKE: 'WE'RE FIGHTING FOR A FAIR CONTRACT'
A separate video shared by the NewsGuild of New York, which represents unionized staffers from several New York-based news organizations including the Times, Reuters and NBC News, showed the Times staffers singing an "Unhappy Anniversary."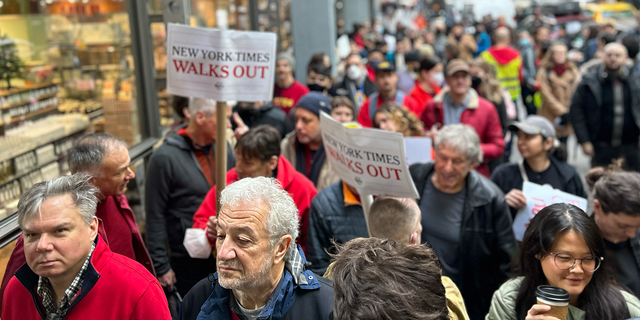 Unionized staffers staged a walkout at The New York Times in December as part of an ongoing dispute with their employer. (Fox News Digital )
Other Times staffers expressed solidarity with the protest on Twitter.
"A rally took place today INSIDE the New York Times -- in the newsroom! Two years. Too Long," Times correspondent Frances Robles tweeted.
"2 long!" Times copy editor Lauren Leibowitz exclaimed.
NEW YORK TIMES SAYS TRUMP CRITICS DISMISSED COVID LAB LEAK AS 'CONSPIRACY THEORY,' BUT SO DID THE PAPER
"Pulitzer day? Nope, just NYT staffers on the second anniversary of our contract expiring (which means three years of no raises for most guild members) asking for a contract commensurate with the Times' robust financial performance," Times economy reporter Lydia DePillis wrote.
"If NYT can afford to give raises to top executives, they can afford to give fair raises to employees, too!" Times staff editor Christoph Fuhrmans similarly expressed.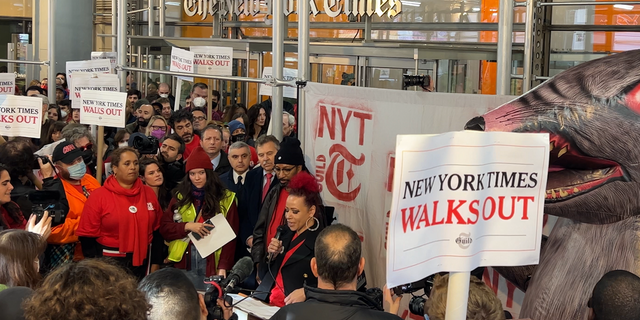 New York Times Magazine reporter Nikole Hannah-Jones was a featured speaker at a staged walkout among colleagues in December. (Fox News Digital )
CLICK HERE TO GET THE FOX NEWS APP
In a statement to Fox News Digital, a spokesperson for the Times said, "We're eager to quickly finalize a contract that we can all be proud of.

"Our current wage proposal offers the biggest package of pay and benefits increases for NewsGuild members in decades. That package includes more than $100 million in additional spending for proposals that the company has already agreed to in the course of negotiations. It would provide far more in pay and benefits than what journalists in other newsrooms around the country receive," the Times spokesperson stated. "We remain deeply committed to working with the NYT NewsGuild to reach a contract that financially rewards our colleagues for their important contributions to The Times's success."